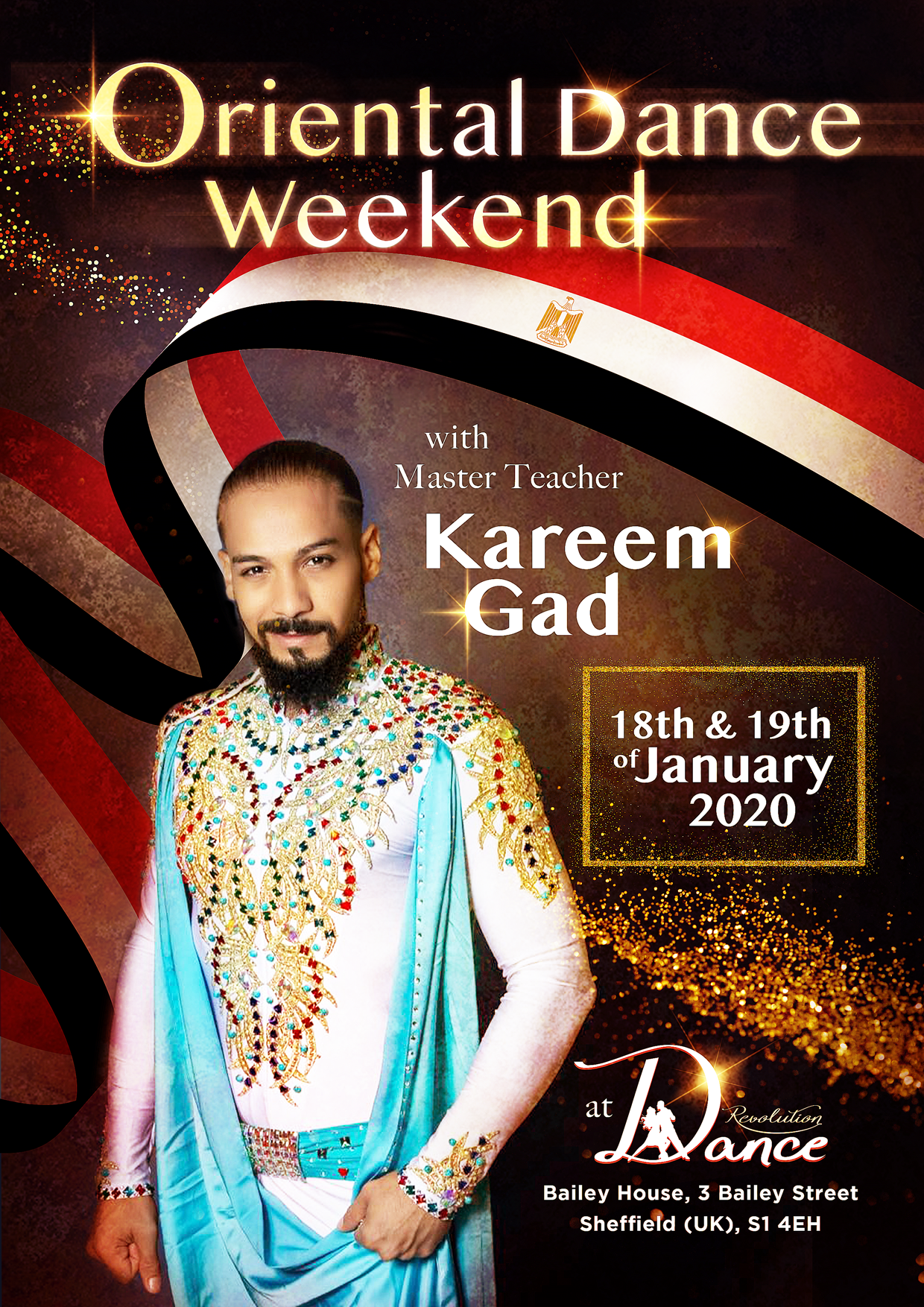 We are so pleased to announce that we have organised a weekend of detailed and intense workshops with world renowned Master Teacher, Kareem Gad.
Kareem is originally from Egypt and is based between Paris and Cairo, whilst travelling the world to teach and share his knowledge of of Egyptian dance, culture & heritage.
We have a full weekend planned for you, with 2 Days of Intensive workshops with up to 8 hours of training, as well as a Middle Eastern Party (Hafla) on the Saturday night!
Weekend Schedule:
Saturday Workshops:
Baladi – 12pm-2pm (2 hours)
Lunch Break – 2pm-3pm (1 hour)
Saidi – 3pm-5pm (2 hours)
*Saturday Night Middle Eastern Party – 7pm till late*
https://facebook.com/events/3708881635819129/?ti=cl
Sunday Workshops:
Oriental – 12pm-2pm (2 hours)
Lunch Break – 2pm-3pm (1 hour)
Shaabi – 3pm-5pm (2 hours)
Prices till January 17th 2020
Single Workshop (2 hours) – £32 / £30 NUS
Saturday Workshops (4 hours)- £55 / £50 NUS
Sunday Workshops (4 hours) – £55 / £50 NUS
Party only – £10 / £9 NUS
All Workshops & Party (8 hours + Party) – £110 / £105 NUS
Prices on the day
Single Workshop (2 hours) – £35 / £33 NUS
Saturday Workshops (4 hours) – £60 / £55 NUS
Sunday Workshops (4 hours) – £60 / £55 NUS
Party only – £10 / £9 NUS (Saturday Night)
All workshops & Party (8 hours + Party) – £120 / £115 NUS
Payments Options:
Bank Transfer:
Dance Revolution
Sort Code: 40-41-57
Account Number: 10537772
PayPal:
jaleh@dance-revolution.co.uk
Cash or Card:
Paid to Jaleh at Dance Revolution or card payments also acceptable over the phone
Contact Jaleh for enquiries or bookings:
Phone: 07788263664 Email: jaleh@dance-revolution.co.uk